Cairo Panorama Sunset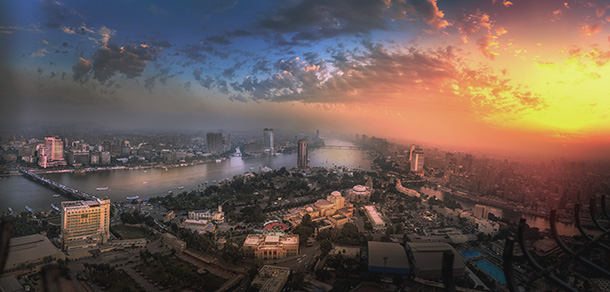 The photo has been taken from the Cairo Tower (Arabic: برج القاهرة‎, Borg Al-Qāhira) which is a free-standing concrete tower in Cairo, Egypt. At 187 m (614 ft), it has been the tallest structure in Egypt and North Africa for about 50 years. It was the tallest structure in Africa for ten years until 1971 when it was surpassed by Hillbrow Tower in South Africa.(Wikipedia)
The photo consists of 5 Portrait photos. I have tried with the security to allow me using the tripod as I wanted to take a long exposure sunset but they justified their rejection cause of the limited space at the top of the tower which was true. it was a bit crowded where it will be a challenge to use the tripod for a long time. Anyhow, I decided to capture the whole sunset scene using the panorama technic, I shot 5 photos with around 20%  overlap in order to cover all the information, then blended them together in Lightroom. 
just right click and select :-> photo merge -> Panorama.
Then, you will get this screen 
Just push the boundary wrap slider to be 100
And Finally, we obtain the below result.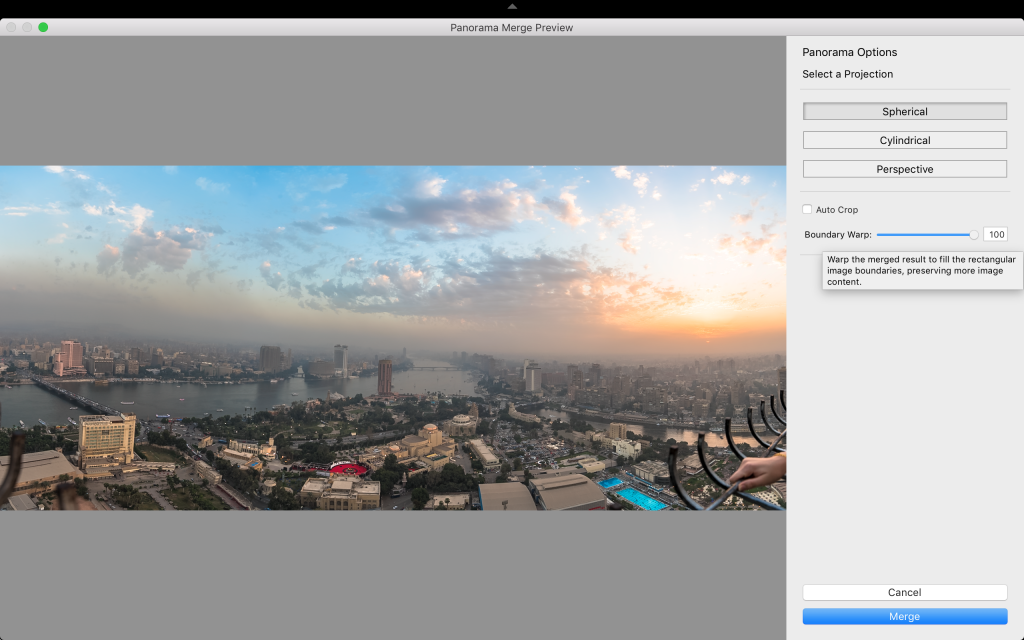 After merging the five photos and obtain the above final image, export it to the photoshop and complete the post-processing. 
Have a nice photography time!
Feel free to leave a comment, like to know your insight.